Meet Dr. Jeff Lustig
We align your spine so you feel divine.
The Road to Active Chiropractic & Wellness Centre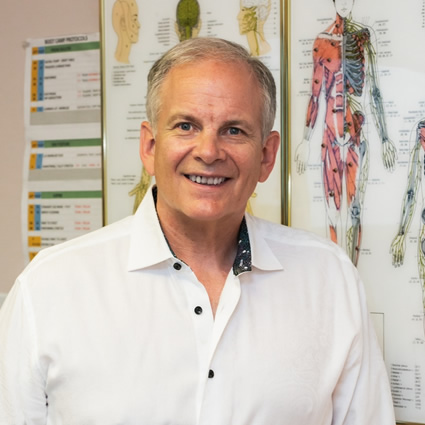 Dr. Jeff Lustig started practice in 1982, in his hometown of Toronto. He attended Downsview Secondary, attained his Bachelor of Science from York University and graduated from Canadian Memorial Chiropractic College – Toronto (1982).
By 1988, he was open to making practice and lifestyle changes that were fulfilled by moving his family and practice to Peterborough. In the decades since, he has enjoyed watching Peterborough grow and evolve while making the most of the Kawarthas and the lifestyle our area has given his family.
Continuing education has involved thousands of hours of study and travel to stay on top of his skills and the latest developments in the profession. To support patient recovery from Sports Injuries and Motor Vehicle Accidents he enrolled in a series of courses leading to the distinction of becoming a Certified Chiropractic Rehabilitation Doctor (C.C.R.D.)
The current clinic location (401 McDonnell St) opened in 2005 to accommodate the addition of three BioFlex laser therapy systems. The clinic was further expanded in 2018 to become the multi-disciplinary, multi-practitioner clinic it is today. Dr. Jeff and his growing team have a goal of offering as many natural health services and practice styles to meet the needs and schedules of area residents who want the care and services offered at Active Chiropractic & Wellness Centre.
My first experience of severe back pain happen when I was 19 while working maintenance at Oakdale Golf & Country Club, my summer job. Earlier in my teens I had been introduced to my first Chiropractor, by my then girlfriend, Debbie. Her entire family saw Dr. John H. This surprised me at the time. I thought chiropractors were just back pain doctors yet they were being treated for health maintenance in addition to any occasion pain flare up. Dr. John H. got me through the episode.
Medicine excels at disease care and crisis care. I respect what medicine is good at and very proud of my son Dan who is a General Surgeon and my daughter Lindsay who spent many years doing cancer research with her Master's Degree.
When I was 8 years old, my father died and within 18 months, both my grandfathers died, all of different conditions. On my block, within a five-year period, five other young fathers died. No, we didn't live on a former toxic dump site!
As a result, I grew up with an interest in natural health maintenance and disease prevention. When I discovered Chiropractic is a profession that was far more than a treatment of back pain, I was all in.
To this day I practice and share that taking care of our body's on a preventative basis involves the following Five Keys: Good Nutrition, Exercise, Adequate Sleep, Spine/Nervous System Care and Address the Stresses at the Root Cause of symptoms.
I call the above Five Keys a Chiropractic Lifestyle and credit them with keeping me active in my physically demanding profession, recreation and fitness activities.
To accommodate patients needs and problems, there is a broad assortment of natural services and practitioners available in the clinic. These include
Your care begins with scans taken with the INSiGHT™ Subluxation Station so that you can see the areas of your body that need attention. As you progress through care, you'll know that these areas are being precisely addressed. Scans can be retaken at regular intervals for objective measurements of your progress.
When you receive an adjustment from Dr. Jeff, he will utilize nerve function tests to show you the difference made. For decades, he has been using this form of testing to demonstrate to patients that the adjustment has worked.
What Does This All Mean for You?
Experience that goes into keeping you and your family naturally healthy enjoying a fulfilling and active lifestyle for many years to come. I look forward to getting to know you and see how we can help.
– Dr. Jeff Lustig
"Your Active Lifestyle Doc"
OUR HOLISTIC SERVICES
Contact Us Today
Ready to get started? Contact our team now! Same-day visits are available.

Dr. Jeff Lustig | (705) 743-1661