Meet Dr. Jeff Lustig
We align your spine so you feel divine.
My Introduction to Chiropractic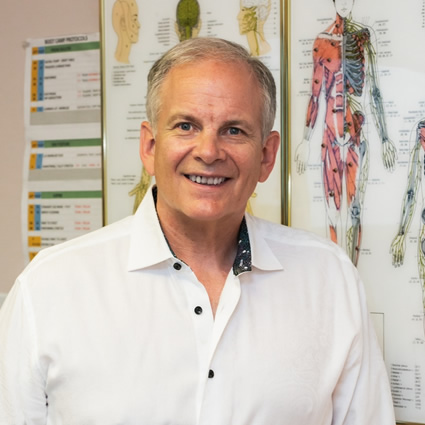 In my late teens, I had a girlfriend whose entire family saw a chiropractor. It surprised me because I thought chiropractors were back pain doctors. As I got to know the chiropractor and understood the principles and philosophy behind chiropractic, I realized it matched perfectly with my own ideas and experiences. Taking care of your body on a preventative basis involves good nutrition, exercise, addressing the cause of symptoms instead of masking them with drugs and avoiding surgery if another natural way is available.
Why Not Medicine?
It wasn't for years that I realized how I came to have a more natural, holistic philosophy about health and health care. When I was 8 years old, my father died. Within 18 months, both my grandfathers died. On my street, within a five-year period, five other young fathers died. No, we didn't live on a former toxic dump site! I grew up with little faith, confidence and belief in the medical system keeping people alive and healthy.
What hooked me on applying to the Canadian Memorial Chiropractic College in Toronto were two experiences that hit close to home. I have always been into sports and being active. Baseball, football, lacrosse and competitive swimming were the big four for me during high school.
I didn't have any significant back problems but noticed that chiropractic improved my performance. That was the coolest thing to an aspiring athlete. I took my mother to the chiropractor for the migraine headaches she had endured and that would disable her, periodically, as long as I could remember. She hasn't had a migraine since.
This is a profession that was made for me and I am made for it. I graduated in 1982 and practiced in Toronto, my hometown, for six years before moving to Peterborough, where I have practiced since 1988.
As the years have gone by, I have taken thousands of hours in continuing education to stay on top of my skills and the latest developments in the profession.
After a lot of mileage on this body (I don't like using years for patients or me), I deal with back and neck issues when I overdo things. In 2012, my long-distance running days stopped due to hip issues that I finally gave in to, and had a hip replacement in 2019. I shocked my surgeon by being back in full-time practice in less than four weeks because of my conditioning and using my laser therapy systems to recover (usual recovery times are 7-8 weeks).
Old knee injuries flare once in a while and my knees could not stand up today to playing catcher on several championship baseball teams as I did in my 20s. With my skills and knowledge, however, my wife Maura and I can continue to lead active, fulfilling lives. We particularly like to bike and canoe. In the gym, I can lift more weight than guys who are half my age. An old-time famous baseball pitcher, Dizzy Dean, once said, "It ain't bragging if it's so."
What Does This All Mean for You?
Experience that goes into keeping you and your family naturally healthy for a fulfilling life and active lifestyle for many years to come. That is what I am on a mission to do for you and our community. I look forward to getting to know you and see how we can help.
–Dr. Jeff Lustig
"Your Active Lifestyle Doc"
OUR HOLISTIC SERVICES
Contact Us Today
Ready to get started? Contact our team now! Same-day visits are available.

Dr. Jeff Lustig | (705) 743-1661