Osteopathy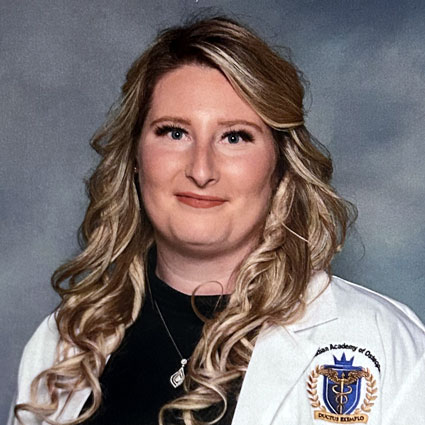 Osteopathy is a holistic and non-invasive form of manual therapy that uses gentle palpation to assess, treat and restore health to the body's system as whole. The goal of an Osteopathic treatment is to work with the individual's health, and to rekindle the body's capacity to self-heal and self-regulate, helping to restore natural motion to all tissues of the body. The body can automatically adapt to different demands, and maintain itself in a state of balance and harmony, ithe body is able to recover from or adapt to many of life's challenges, even traumatic events and injuries!
Meet the Practitioner
Madison (Maddy) Meijer, Manual Osteopathic Practitioner
Madison's educational journey in healthcare started at Ontario Tech University where she obtained a Bachelors of Science in Kinesiology, while competing as a varsity Lacrosse athlete. From there, she obtained a Masters of Osteopathic Manipulative Sciences over a four year, intensive program at the Canadian Academy of Osteopathy.
Through her studies in Osteopathic Therapy, she became passionate about exploring the relationship between structure (anatomy) and function (physiology) of the human body, and its capacity to self-heal and self-regulate! An Osteopathic Manual Practitioner uses the soft tissue structures to alleviate restriction of motion, which ultimately improves nerve communication, arterial venous, and lymphatic circulation. The goal of Osteopathic Treatment is to get to the root cause of your dis-ease.

Osteopathy | Active Chiropractic & Wellness Centre