Wellness/Mindset Coaching
Put on Your Own (Oxygen) Mask First
Even the most successful women still face daily and life challenges that are the natural state of life. It goes with the territory. In fact, the more we expand the more stress we must be able to handle. Are you a woman on a personal quest for excellence, who is ready to reinvent yourself, to create something new? Have you decided it's time to stop settling, to stop tolerating what is?
Build Self-Esteem Through Self-Care
Gain the clarity and confidence to boldly pivot, to embrace change so you can express yourself fully and be the best version of yourself.
Maura typically works with women ages 40 to 65 who may be struggling with overwhelm, experiencing a crisis in their health, relationships, or career, and who are eager to break free and live a life they love.
Everyone needs support and mentorship, no exceptions! Working with her clients, Maura helps them develop the skills to master the art of well being, to convert chaos to clarity, crush overwhelm, boldly pivot and embrace change so they can express themselves fully and be the best version of themselves!
Using her signature 7 step process, she supports purpose driven women in transforming into their own extraordinary essence. Her clients rekindle their desires, gain confidence, and clarity and take a powerful stand for their life. They celebrate their uniqueness, discover their joy and embody their passion for living.
The 4 Stages Of Transformation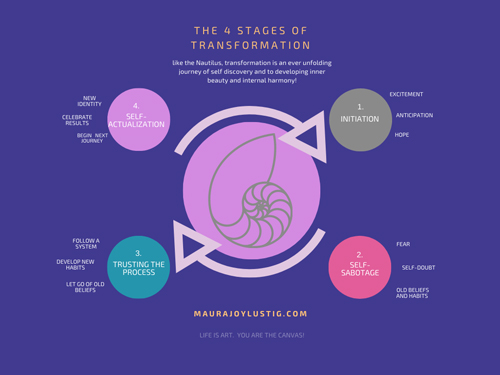 The Art Of Being Well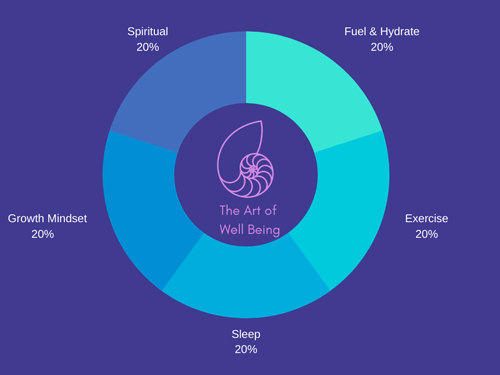 Maura uses decades of experience, insights and wisdom to help you gain the clarity and confidence to change your life as well. Her training as a transformational coach includes the Co-Active Training Institute's Life Coaching and Leadership programs, plus diverse workshops in Advanced Coaching in Neuroscience, Consciousness and Transformational Coaching, as well as NLP training, Mindful Living and Meditation, plus Mindfulness and Meditation. Her education also includes an Honours BA in languages as well as diplomas in Corporate Communication and Financial Planning.
You Will:
Develop a routine to start your day and maintain momentum.
Create a roadmap, a framework for maintaining health, peace of mind, connection, personal development.
Be able to work from home and eliminate feelings of pressure to get it all done.
Set boundaries, raise your personal standards and build your self esteem.
Eliminate frustration, boredom and procrastination.
Gain a sense of purpose, of making a difference, and build community.
Convert self sabotaging habits to non negotiable healthy habits.
Improve sleep, energy and become fit and sexy and fall in love with yourself again!
And finally, become confident and focused. There's no longer a sense of being stalled in your personal destiny, of going nowhere…
From a Mentee: "Sometimes words escape me…you truly are a beacon of light that is steady, shining brightly and constant. Your words, and actions always touch my core. Your energy is contagious. Your professionalism is a reality I continually strive to meet. You are a gift to all who take a moment. Thank you. You are incredible, and I am so grateful to know you."
Experience Maura's coaching and support as follows:
Transformational Mindset – Personal Coaching
Convert Chaos to Clarity – online program
Wellness Coaching and Targeted Nutrition: weight loss, energy, detox, healthy aging
Creativity Coaching – Discover Your Inner Artist Workshops
Women's International Wellness Retreats _ Live Inspired Getaway
Free 30 Minute Initial Consultation – When booked through the clinic – Value $200
To clarify your goals and explore how Maura's services can fulfill your coaching needs.
Maura will review your current challenges, and the goals you wish to achieve. From this session you will be able to decide on your next step(s).
Option A
*Register and enjoy the online course, Convert Chaos to Clarity
Click to see the course outline here!
Option B
Personalized one-one coaching (8 weeks total) and bonuses which includes:
*1 x 45 Minute Discovery Session.
Continuing from the initial assessment, Maura delves deeper, performing a complete review which includes essentials in the areas of health, relationships and career. During this in-depth session she establishes agreements for the coaching relationship, creates a schedule, clarifies your goals and expectations and provides you with strategies for moving forward towards the art of well-being.
*6 x 30 Minute Coaching Sessions
Each session (to be held bi-weekly) will include a review of accomplishments, challenges encountered, homework completed, next level training and guidance and tasks assigned.
*Full access to online course Convert Chaos to Clarity. Each of the lessons from the course will be used to complement and support the progression of personal development in the private coaching sessions.
Start Your Wellness Journey Today
Use the button below to schedule your appointment or visit Maura Joy Listig's coaching website to learn more!

Wellness & Mindset Coaching Peterborough, Kawartha Lakes, Lakefield ON | (705) 743-1661